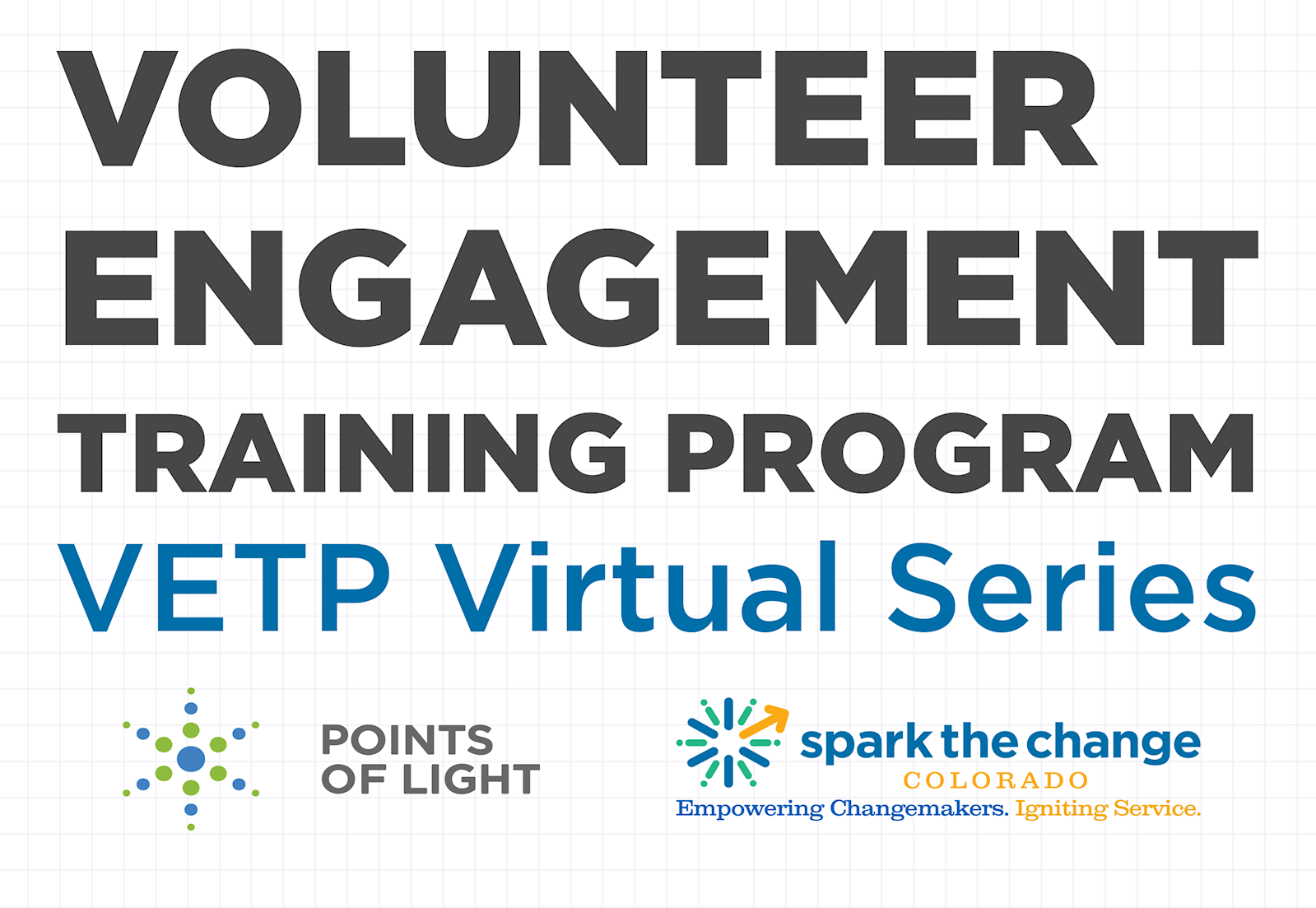 Spark the Change's updated Volunteer Engagement Training Program (VETP), formerly the Volunteer Management Training Series (VMTS), consists of six modules created by the Points of Light Institute and updated in 2020. Classes are designed to provide a comprehensive understanding of the major components of nonprofit volunteer engagement. Earn a Volunteer Engagement Certificate and start developing volunteer recruitment, retention, and recognition strategies and methods of offering projects for diverse audiences.
Who is it for?:
For many nonprofit organizations, volunteer help is vital. Discover how your nonprofit can run a volunteer program, cultivate leaders and benefit from volunteer expertise. Looking to learn ways to recruit, train, and recognize volunteers in your organization? VETP is perfect for you! This valuable program will enhance your knowledge whether you are a new or seasoned volunteer manager.
Premium Spark Members are eligible to receive a 10% discount for up to 2 employees. To receive the Promo Code for this discount, contact Tanya Acker at tacker@sparkthechangecolorado.org. (Discounts are 10% off each registration, not 20% off the total of 2 registrations.) Registeration is closed for the Fall 2022 Session. 2023 Session Dates Coming Soon.
Session Schedule Meet the Trainers Pricing Information
---
VETP Fall 2022 Session Schedule:
Week 1: Establishing the Framework

Sept 20th 9:00 - 10:30am
Sept 22nd 9:00 - 10:00am

Describe volunteerism and its role in civic life today. Identify elements of, explore barriers to, and motivators for volunteer engagement.

Trainer: Kelly Streck

Week 2: Planning for Volunteer Engagement

Sept 27th 9:00 - 10:30am
Sept 29th 9:00 - 10:00am

Start planning for how and where volunteers fit in our organizations. Learn how to conduct a Volunteer Engagement Assessment, consider risk, and identify the many steps, resources and support needed to effectively engage volunteers.

Trainers: Lynn Soukup, Kelly Streck

Week 3: Opportunities & Outreach

Oct 4th 9:00 - 10:00am
Oct 6th 9:00 - 10:00am

Acquire tools with a Volunteer Experience Lens to get the volunteers you need in the door. Examine trends in volunteerism, develop position descriptions, explore targeted recruitment, and develop an outreach strategy.

Trainers: Angela Bomgaars, Nicole Stanek Scott

Week 4: Intake & Onboarding

Oct 18th 9 - 10:00am
Oct 20th 9 - 10:00am

Recognize the difference between orienting and training volunteers and staff by creating systems to effectively screen, interview, match, place, orient and train volunteers. Assess training needs and design training to equip volunteers and staff.

Trainer: Kelly Streck

Week 5: Supervision & Support

Oct 25th 9-10:00am
Oct 27th 9-10:00am

Provide tools and strategies to ensure volunteers feel supported, effective and appreciated. Explore causes of and options for addressing volunteer performance problems and identify effective ways to reward and recognize volunteers.

Trainers: Tracy Vlnicka, Abby Krstulic

Week 6: Evaluation

Nov 1st 9-10:00am
Nov 3rd 9-10:00am

Examine strategies for figuring out what is and isn't working by building a foundation for evaluating volunteer engagement. Recognize the difference between Program and Stakeholder Evaluation, explore Impact Statements, Mutual Feedback and Stakeholder Satisfaction Surveys, and learn how to improve outcomes for volunteers, staff and the organization as a whole.

Trainers: Kelly Streck, Nicole Quinn
For Premium Member discount, questions, upcoming trainings, or to join the waitlist for the next series, contact Tanya Acker at TAcker@sparkthechangecolorado.org.
Download the Participant Photo/Video Release Form
---
2022 Trainer Bios
Kelly Streck
Director of Community Engagement,
Spark the Change Colorado
KStreck@sparkthechangecolorado.org

After teaching English abroad for 2 years in Poland and Japan, Kelly Streck started her career in non-profit program development and volunteer management at Young Americans Center for Financial Education teaching K-12 students and parents about personal financial literacy for 5 years. From there she joined the Young Philanthropists Foundation working with kids in the Penny Harvest, then directed summer camps at Wapiyapi for kids with cancer and their siblings.


Before joining Metro Volunteers, now Spark the Change Colorado, she taught modules of the Volunteer Management Training Series having no idea at the time that was foreshadowing her next nonprofit home! At Spark the Change Colorado, Kelly is the Director of Community Engagement. As a mom with a 4 year old and a 16 month old, Kelly believes in the importance of living with a positive impact as a professional and as a family.

Lynn Soukup
RSVP Manager- Montezuma County,
Spark the Change Colorado
LSoukup@sparkthechangecolorado.org

Lynn Soukup has been a teacher, a parenting coach, and a family advocate for most of her adult life. She previously worked at The Pin͂on Project, a family resource center in Cortez, where she was a trainer and facilitator for Family Development Credentials and Bridges Out of Poverty.

In her free time, Lynn loves to get outside. During COVID-19 quarantine, Lynn was living in The Woodlands, TX, which, true to its name, is heavily wooded. She spent those lonely days learning about the unique ecosystem and exploring the natural landscape looking for bugs and snakes, turtles and frogs, and just accessing a new and different view of the world. She shares, "As much as I loved my critter friends, I am still a people-person, through and through!"

Angela Bomgaars
Executive Director,
Extreme Community Makeover
angela@extremecommunitymakeover.org

Angela began as a member of Extreme Community Makeover's founding team, helping to develop what was then an idea into a solid program model. Angela transitioned ECM into an independent 501(c)(3) non-profit organization, while developing strategic partnerships, initiating relationships with residents and organizations in target communities, and providing leadership to thousands of volunteers.


She manages all of ECM's administrative functions, fundraising, and operations. Angela holds a master's degree in Leadership and a bachelor's degree in Social Work, and is actively involved in further nonprofit education and training. Most recently, Angela received a Certificate in Nonprofit Management from Duke University.

Nicole Quinn
Community Engagement Coordinator,
United Way of Weld County
nicole@unitedway-weld.org

Nicole Quinn is the Community Engagement Coordinator at United Way of Weld County. Since the start of her career with United Way, in 2017, she has had the opportunity to learn and grow alongside motivating individuals in the field of volunteer management. Primarily through attending trainings and conferences held by Spark the Change, DOVIA Colorado and Colorado Non-Profit Professionals. Nicole completed the Volunteer Management Series training, earning her certificate of completion in November of 2018.

Nicole Stanekscott
Director of Volunteer Engagement,
Habitat for Humanity Metro Denver
nstanekscott@habitatmetrodenver.org

Nicole is a seasoned Volunteer Professional who has been working in volunteer engagement with Habitat for Humanity for over 10 years. She started her time with Habitat as an AmeriCorps member in 2009. Nicole has been in her current role as the Director of Volunteer Engagement at Habitat Metro Denver since March 2018, where she lead the team through the Service Enterprise Certification. Nicole is Certified in Volunteer Administration (CVA), holds a Masters in Nonprofit Management from Regis University, and a Bachelor's from Syracuse University.

Tracy Vlnicka
Volunteer Services Manager,
Denver Botanic Gardens
tracy.vlnicka@botanicgardens.org

Tracy Vlnicka is the Volunteer Services Manager at Denver Botanic Gardens. She has gained professional experience from connections with a variety of organizations to engage teen and adult volunteers, build partnerships, strengthen collaborations, and manage stellar teams.


Tracy is passionate about connecting people to nature and has been privileged to work for some amazing organizations who do just that. She has experience with service learning program development, international travel with volunteers/students, and volunteer program planning. Tracy also loves to cook, bake, spend time with her kiddos and teach REFIT fitness classes.

Abby Krstulic
Volunteer Program Manager,
Fort Collins Habitat for Humanity
akrstulic@fortcollinshabitat.org

Abby Krstulic holds a degree in Hospitality Management with a minor in Nonprofit Leadership from Kansas State University. After graduating in 2017, she moved to Fort Collins to begin her career with Fort Collins Habitat for Humanity as their Volunteer Program Manager. In her five years at Habitat, she has served as the point of contact for 1,000+ annual volunteers on the build site, in the ReStore, at events, through AmeriCorps, and more.

This year, she looks forward to certifying Fort Collins Habitat as a Service Enterprise organization, further supporting staff in volunteer engagement, and continuing to work with passionate and amazing community members who support Habitat's mission. In her free time, Abby enjoys volunteering with DOVIA Colorado and CASA of Larimer County and hiking (especially during wildflower season/peak fall colors)!