For many nonprofit organizations, volunteer help is vital. Discover how your nonprofit can run a volunteer program, cultivate leaders and benefit from volunteer expertise.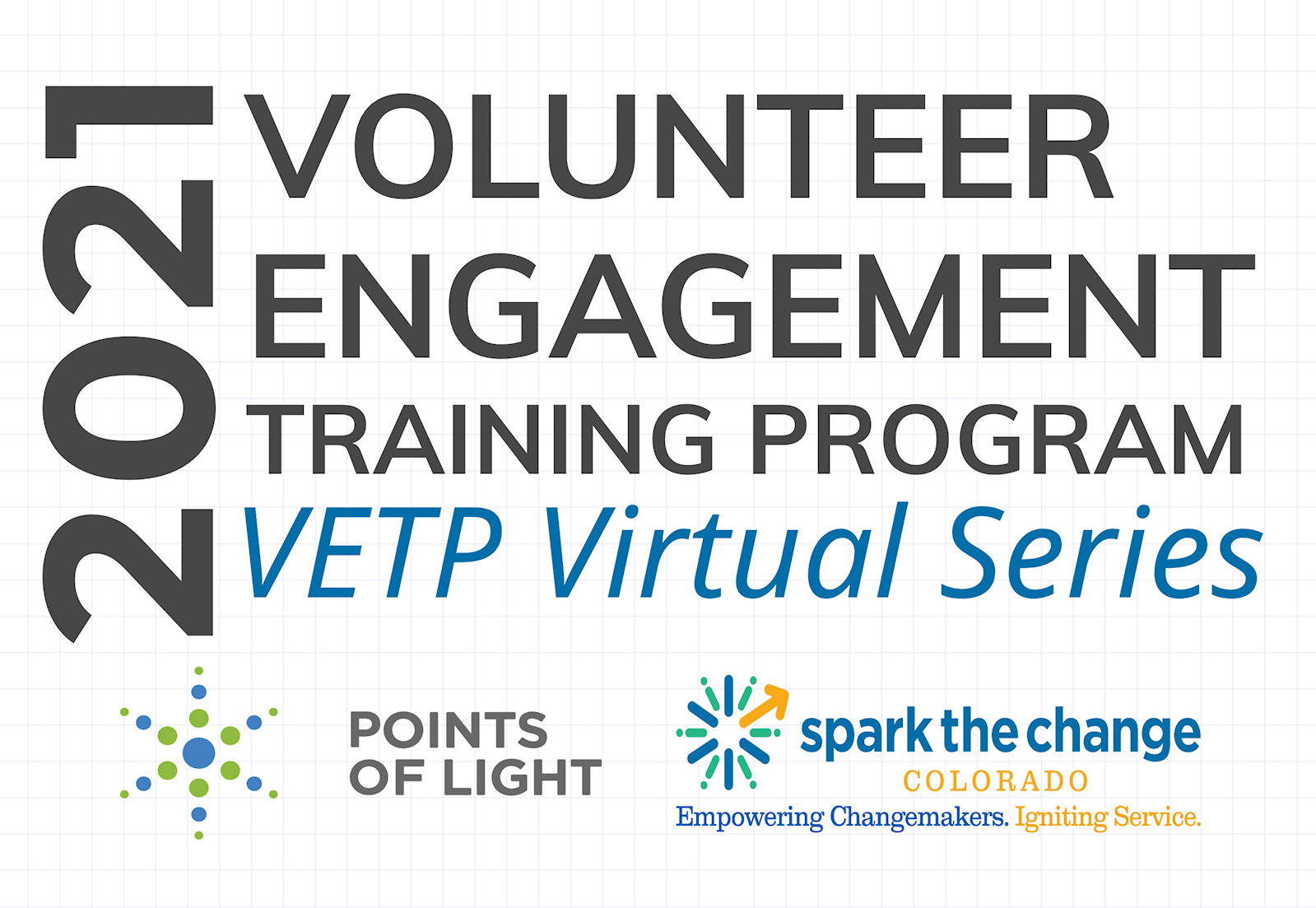 Spark the Change's newly updated Volunteer Engagement Training Program (VETP), formerly the Volunteer Management Training Series (VMTS), consists of six modules created by the Points of Light Institute and recently updated in 2020. Classes are designed to provide a comprehensive understanding of the major components of nonprofit volunteer engagement. Earn a Volunteer Engagement Certificate* and start developing volunteer recruitment, retention, and recognition strategies and methods of offering projects for diverse audiences. *Must attend all 6 modules to receive a certificate.
This valuable program will enhance your knowledge whether you are a new or seasoned volunteer manager.

All 2021 VETP Sessions will be held virtually.
April is Global Volunteer Month! Looking to learn ways to recruit, train, and recognize volunteers in your organization? VETP is perfect for you!
We are currently at full capacity for our April Training Series.
Contact Kelly Streck to join the waitlist and be one of the first to register for our next series! Dates TBD.
VETP MODULES:
Monday, April 12 – 9am-12pm
Session 1: Establishing the Framework
Describe volunteerism and its role in civic life today. Identify elements of, explore barriers to, and motivators for volunteer engagement.
Monday, April 19 – 10am-12pm
Session 3: Opportunities & Outreach
Acquire tools with a Volunteer Experience Lens to get the volunteers you need in the door. Examine trends in volunteerism, develop position descriptions, explore targeted recruitment, and develop an outreach strategy.
Monday, April 26 – 10am-12pm
Session 5: Supervision & Support
Provide tools and strategies to ensure volunteers feel supported, effective and appreciated. Explore causes of and options for addressing volunteer performance problems and identify effective ways to reward and recognize volunteers.
Wednesday, April 14 – 1-3pm
Session 2: Planning for Volunteer Engagement
Start planning for how and where volunteers fit in our organizations. Learn how to conduct a Volunteer Engagement Assessment, consider risk, and identify the many steps, resources and support needed to effectively engage volunteers.
Wednesday, April 21 – 1-3pm
Session 4: Intake & Onboarding
Recognize the difference between orienting and training volunteers and staff by creating systems to effectively screen, interview, match, place, orient and train volunteers. Assess training needs and design training to equip volunteers and staff.
Wednesday, April 28 – 1-3pm
Session 6: Evaluation
Examine strategies for figuring out what is and isn't working by building a foundation for evaluating volunteer engagement. Recognize the difference between Program and Stakeholder Evaluation, explore Impact Statements, Mutual Feedback and Stakeholder Satisfaction Surveys, and learn how to improve outcomes for volunteers, staff and the organization as a whole.
Registration is FULL. Waitlist Slots Available.
For questions, upcoming trainings, or to join the waitlist for the next series, contact Kelly Streck at kstreck@sparkthechangecolorado.org.

Meet the Trainer!