American Red Cross Pueblo's Hometown Heroes Dinner 2020
What an honor! Thank you to the American Red Cross of Pueblo for recognizing the Pueblo Pro Bono Mental Wellness Program and Pueblo Programs Director, Betty Nufer, at last night's Hometown Heroes Dinner. It was truly an honor for Betty to receive the Community Hero Award. Thank you and congratulations to all those who received awards for their dedication to the Pueblo community! And a special thank you to Judge Dennis Maes and Pro Bono Volunteer, Gloriean Sandoval Ortiz, for the kind words about Betty and the program in this video. We could not do this great work for the Pueblo community without the hard work of Judge Maes, Gloriean and all of our wonderful volunteers, and the leadership of Betty Nufer.
Posted by Pueblo Pro Bono Mental Health Program- Powered by Spark the Change Colorado on Wednesday, February 19, 2020
Pro Bono Mental Health & Counseling Program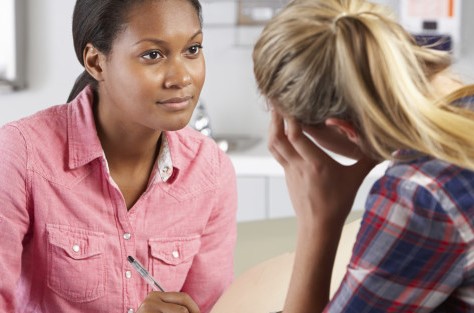 Spark the Change Colorado's, Formerly Metro Volunteers' Pro Bono Mental Health Program connects licensed, or those seeking licensure, and insured volunteer therapists, counselors, and other professionals with low-income individuals in Colorado in need of counseling.
---
The Need in Colorado
According to the Colorado Health Institute, in 2017,
350,423 Coloradans remained uninsured
and 381,689 Coloradans above age five who needed mental health services did not receive it.
We are here to make it better.
---
Mental Health Services
Are you overwhelmed? Anxious? Stressed? Can you not afford mental health services?
If you are seeking Pro Bono Mental Health Services, please call our hotline number below to learn if you qualify.
We will do our best to match you with a Pro Bono Mental Health Counselor.
1-844-380-6355 for more information or to learn if you qualify.
Please note this is not a crisis line. If you are having thoughts of death by suicide please call:
Rocky Mountain Crisis Partners,1-844-493-8255
OR
the National Suicide Prevention Line,1-800-273-8255
OR
Colorado Crisis Services: free local support 24/7/365, 1-844-493-TALK(8255)
---
Get Involved
Become A Volunteer
Volunteer as a Pro Bono Mental Health Professional, impacting the lives of those who need the support the most.

Counsel 1+ client(s) at your private practice or one of our host sites including: clinics, schools, community centers, churches, etc.

Partner with your client(s) for 4+ sessions a month to serve as a crucial resource. Volunteering is flexible.

See your client(s) achieve improved relationships, increased attention to mental health, and an enhanced capacity to meet basic needs.

Gain access to future networking opportunities and resources for continued learning in the field.
Become a Supervisor
Our postgraduate volunteers working towards meeting their licensure hours need qualified supervisors to guide them.

Make twice the impact by donating your time to support a mental health professional in training who is committed to counseling low-income Coloradans through our program.

Meet with your supervisee to provide guidance and discuss progress on treatment plans.

Form a meaningful relationship with an up and coming professional in the field.
Become A Host Site
We are seeking organizations to serve as Host Sites for our program.

Our Host Sites include: non-profits, community-based organizations, and mental health centers.

Please consider the following questions: Does your organization serve the mental health needs of low income Coloradans? Are you seeking to increase the capacity to serve mental health needs of your clientele? Do you have space to host a Pro Bono Volunteer?

Check out our video below to see how a Pro Bono Volunteer expands your organization's capacity!
Please note, all pro bono mental health volunteers must complete a background check through Verified Volunteers.
A Glimpse Into Our Host Site Model
Questions? Want to volunteer or partner with us? Please contact:
Kelly Groen,

Program Director

kgroen@sparkthechangecolorado.org

303-282-1234 x304

Betty Nufer,

Pueblo Area Manager

bnufer@sparkthechangecolorado.org

719-821-2982