SPARK ENGAGEMENT
THERE ARE MANY WAYS TO ENGAGE IN YOUR COMMUNITY OUTSIDE OF TRADITIONAL DONATING AND VOLUNTEERING. JOIN US AS WE SPARK INNOVATIVE WAYS TO GIVE BACK AND MAKE AN IMPACT.
What is The Civic Circle? Civic Circle Discussion Series Civic Life Today Magazine Resource: DEIA in Volunteer Programming
As society changes, we're seeing an evolution in how people choose to get involved and give back.
POINTS OF LIGHT: CIVIC LIFE TODAY MAGAZINE
Civic Life Today is a new digital magazine that will be comprised of nine issues. Each issue will take an in-depth look at an element on the Civic Circle. They will provide materials to learn more, share examples of each element in action, and offer inspiration and ideas for being civically engaged. Click here to learn more!
The Latest Issue: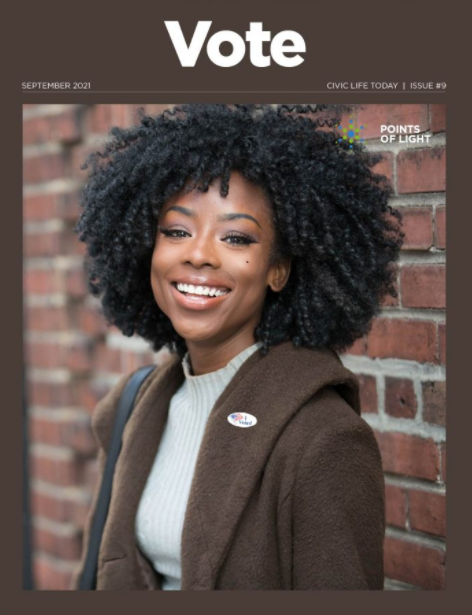 Past Issues:
Issue #1: Purchase Power
Issue #2: Your Voice
Issue #3: Listen & Learn
Issue #4: Volunteer
Issue #5: Social Entrepreneur
Issue #6: Work
Issue #7: Donate
Issue #8: Service
NEW: Civic Circle Discussion Series!
Spark the Change Colorado will host the new Points of Light Civic Circle Discussion Series. Participants of this series will come together once a month for 90 minutes starting in August 2021 through June 2022. To better serve the entire state of Colorado, this cohort will meet virtually. In each session, we will take a deep dive into one of the nine elements of the Civic Circle using toolkits provided by @PointsofLight, the world's largest organization dedicated to volunteer service. At the end of our series, each participant will have completed action plans and tools to continue positive work around inclusivity and diversity in our workplaces, homes, and communities. Registration is required and participation in this program is free.
Before joining this cohort, please see the expectations outlined below before registering:
Attendance for all sessions is expected.

Expect to spend 2-3 hours of pre-work for each session, including reading the magazine. We will explore the Points of Light magazine in addition to other resources to have meaningful and engaging conversation. (Note: Total hours of commitment including the meetings is up to 6 hours per month)

This is a learning space! We're working toward a shared understanding of the Civic Circle framework and its possibilities – not toward immediate expertise - so we invite everyone to practice patience and give yourself grace as we learn together!

This is a BRAVE space, not a safe space. Know that we are not here to solve--but to LEARN. Keep an open mind. Prepare to challenge and be challenged respectfully.
Participants are required to attend all of the following dates, as well as complete independent assignments:
All sessions are 2:30 - 4:00pm
Aug 25th - Purchase Power
Sept 22nd - Voice
Oct 27th - Listen & Learn
Nov 17th - Volunteer
Jan 26th - Social Entrepreneur
Feb 23rd - Work
Mar 23rd - Donate
Apr 27th - Service
May 25th - Vote
Jun 22nd - Presentations
Are you ready to join us?
Registration has closed.
Discussion Notes:
Didn't get a chance to register for this group? Interested in following along with the topics discussed? Check out our notes following each session for resources, tips, and ideas to get started on a more civic and socially responsible life!
Looking for DEIA Resources for Your Volunteer Program?
Download DEIA in Volunteer Programming: A List of Actionable Items, created in partnership of DOVIA Colorado and Spark the Change Colorado. This list of direct and achievable action items will provide a jumping off point to begin the discussion around diversity, equity, inclusion, and access in your volunteer program.
WHAT IS CIVIC LIFE?
People are activating and supporting issues in so many ways. Today's engaged person may express their desire to do good through the purchases they make, how they vote, in what they share on social media, where and how they choose to work, and what nonprofit organization to support as a volunteer or donor.
Points of Light connects people with opportunities to be engaged and helps them discover their potential to make a difference. POL believes every action matters and that civic engagement is critical to advancing causes that improve society for everyone. POL believes a person who lives a civic life has a greater sense of social responsibility, healthier relationships and is more inclined to want a just and equitable society.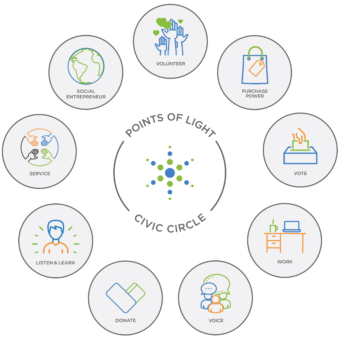 WHAT IS THE CIVIC CIRCLE?
The Civic Circle helps individuals connect to opportunities and understand that doing good comes in many forms. It is a framework that represents your power to lead, lend support and take action for causes you care about and to lead a civic life.
DONATE
This is your ability to contribute money, services or goods to support the welfare of others or to advance a social cause you care about.
PURCHASE POWER
You can make decisions that reflect your values or advance a social cause or issue by choosing where you do and don't spend your money.
VOICE
You can use your voice to influence your family, friends, and others, to raise awareness for an issue you care about.
WORK
You may decide to make choices about your employment based on the organization's values and the purpose. In many cases, you may also use your workplace as a platform to advance social issues.
VOLUNTEER
You may choose to give your time and talents inside and outside of your home to help your community or a cause you care about.
VOTE
In democratic societies, voting is your opportunity to participate in the democratic process for national and local elections, supporting causes and candidates aligned with your positions.
LISTEN & LEARN
We need to stay informed, think critically and educate ourselves before acting. The more informed you are, the better decisions you can make about how to best serve your community.
SERVICE
You may commit your time, energy, & talent to public, national or military service.
SOCIAL ENTREPRENEURSHIP
You may identify a need that has not been met by traditional institutions, structures and systems, and be able to lead creative and innovative solutions that drive change.