Spark the Change Colorado is a Points of Light Affiliate Organization.
*NEW POINTS OF LIGHT CIVIC LIFE TODAY MAGAZINE
Civic Life Today is a new digital magazine that will be comprised of nine issues. Each issue will take an in-depth look at an element on the Civic Circle. They will provide materials to learn more, share examples of each element in action, and offer inspiration and ideas for being civically engaged. Click here to learn more!
The Latest Issue: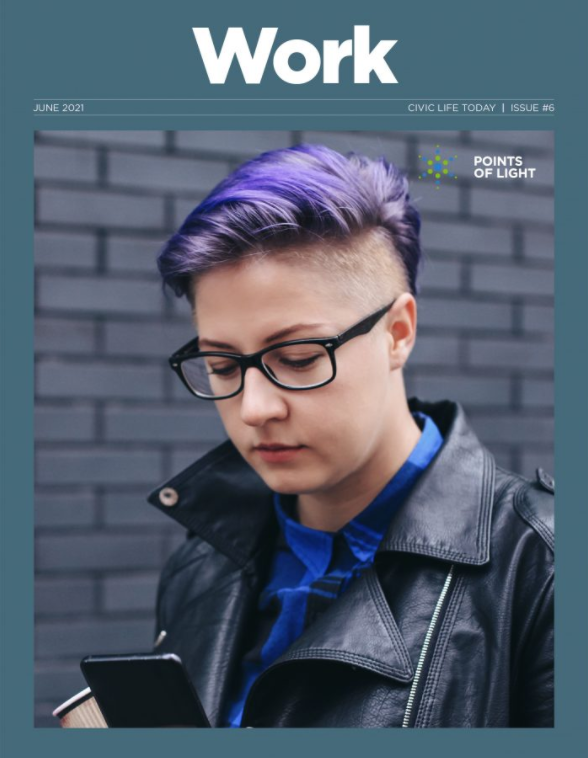 Past Issues:
Issue #1: Purchase Power
Issue #2: Your Voice
Issue #3: Listen & Learn
Issue #4: Volunteer
Issue #5: Social Entrepreneur
WHAT IS CIVIC LIFE?
People are activating and supporting issues in so many ways. Today's engaged person may express their desire to do good through the purchases they make, how they vote, in what they share on social media, where and how they choose to work, and what nonprofit organization to support as a volunteer or donor.
Points of Light connects people with opportunities to be engaged and helps them discover their potential to make a difference. POL believes every action matters and that civic engagement is critical to advancing causes that improve society for everyone. POL believes a person who lives a civic life has a greater sense of social responsibility, healthier relationships and is more inclined to want a just and equitable society.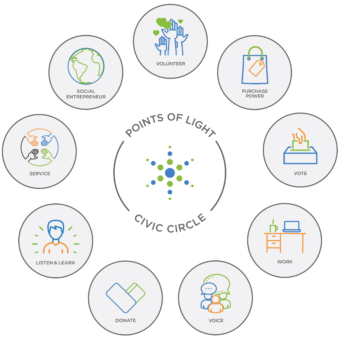 WHAT IS THE CIVIC CIRCLE?
The Civic Circle helps individuals connect to opportunities and understand that doing good comes in many forms. It is a framework that represents your power to lead, lend support and take action for causes you care about and to lead a civic life.
DONATE
This is your ability to contribute money, services or goods to support the welfare of others or to advance a social cause you care about.
PURCHASE POWER
You can make decisions that reflect your values or advance a social cause or issue by choosing where you do and don't spend your money.
VOICE
You can use your voice to influence your family, friends, and others, to raise awareness for an issue you care about.
WORK
You may decide to make choices about your employment based on the organization's values and the purpose. In many cases, you may also use your workplace as a platform to advance social issues.
VOLUNTEER
You may choose to give your time and talents inside and outside of your home to help your community or a cause you care about.
VOTE
In democratic societies, voting is your opportunity to participate in the democratic process for national and local elections, supporting causes and candidates aligned with your positions.
LISTEN & LEARN
We need to stay informed, think critically and educate ourselves before acting. The more informed you are, the better decisions you can make about how to best serve your community.
SERVICE
You may commit your time, energy, & talent to public, national or military service.
SOCIAL ENTREPRENEURSHIP
You may identify a need that has not been met by traditional institutions, structures and systems, and be able to lead creative and innovative solutions that drive change.