With cases of COVID-19 on the rise across the state and the nation, Spark the Change Colorado hopes to be a resource for volunteer organizations and volunteers, alike. Check back to this page for updates on how to keep yourself and volunteers healthy and safe.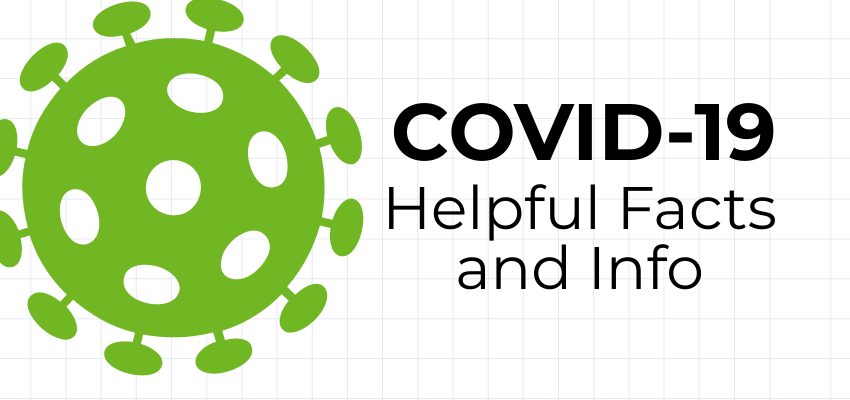 Virus Facts:
WHAT IS IT?
The virus is not a living organism, but a protein molecule (DNA) covered by a protective layer of lipid (fat), which, when absorbed by the cells of the ocular, nasal or buccal mucosa, changes their genetic code. (mutation) and convert them into aggressor and multiplier cells.
Since the virus is not a living organism but a protein molecule, it is not killed, but decays on its own. The disintegration time depends on the temperature, humidity and type of material where it lies.


HOW DOES IT BREAK DOWN?
The virus is very fragile; the only thing that protects it is a thin outer layer of fat. That is why any soap or detergent is the best remedy, because the foam CUTS the FAT (that is why you have to rub so much: for 20 seconds or more, to make a lot of foam).
By dissolving the fat layer, the protein molecule disperses and breaks down on its own.


BEST WAYS TO COMBAT IT:
HEAT melts fat; this is why it is so good to use water above 25 degrees Celsius for washing hands, clothes and everything. In addition, hot water makes more foam and that makes it even more useful.
Alcohol or any mixture with alcohol over 65% DISSOLVES ANY FAT, especially the external lipid layer of the virus.
Any mix with 1 part bleach and 5 parts water directly dissolves the protein, breaks it down from the inside.
Oxygenated water helps long after soap, alcohol and chlorine, because peroxide dissolves the virus protein, but you have to use it pure and it hurts your skin.
NO BACTERICIDE OR ANTIBIOTIC SERVES. The virus is not a living organism like bacteria; antibodies cannot kill what is not alive.
NEVER shake used or unused clothing, sheets or cloth. While it is glued to a porous surface, it is very inert and disintegrates only

between 3 hours (fabric and porous)
4 hours (copper and wood)
24 hours (cardboard)
42 hours (metal)
72 hours (plastic)
But if you shake it or use a feather duster, the virus molecules float in the air for up to 3 hours, and can lodge in your nose.



WHAT MAKES IT THRIVE?
The virus molecules remain very stable in external cold, or artificial as air conditioners in houses and cars.
They also need moisture to stay stable, and especially darkness. Therefore, dehumidified, dry, warm and bright environments will degrade it faster.
UV LIGHT on any object that may contain it breaks down the virus protein. For example, to disinfect and reuse a mask is perfect. Be careful, it also breaks down collagen (which is protein) in the skin.
The virus CANNOT go through healthy skin.


BEST PRACTICES FOR CLEANING:
Vinegar is NOT useful because it does not break down the protective layer of fat.
NO SPIRITS, NOR VODKA, serve. The strongest vodka is 40% alcohol, and you need 65%.
LISTERINE IF IT SERVES! It is 65% alcohol.
The more confined the space, the more concentration of the virus there can be. The more open or naturally ventilated, the less.
You have to wash your hands before and after touching mucosa, food, locks, knobs, switches, remote control, cell phone, watches, computers, desks, TV, etc. And when using the bathroom.
You have to HUMIDIFY HANDS DRY from so much washing them, because the molecules can hide in the micro cracks. The thicker the moisturizer, the better.
Also keep your NAILS SHORT so that the virus does not hide there.

-JOHNS HOPKINS HOSPITAL
Points of Light
Safety tips for volunteering in light of COVID-19

In times of crisis, our natural instinct is to help. And now, more than ever, people are looking for ways to volunteer to support their community and the world around them.

However, before you volunteer, you should first take these safety tips into consideration to ensure your safety and the safety of those around you:

1. Stay in the know.
Because things are changing so much on a daily basis, it is important to monitor the COVID-19 pandemic and follow the recommendations of the World Health Organization (WHO), U.S. Centers for Disease Control (CDC), and state and local authorities. Make sure you pay attention to the social media, emails, texts and latest news coverage from the organization you're volunteering with.

2. Consider virtual volunteering.
If you are unsure about your health status, are self-quarantining, and/or have travel restrictions in your city or state, the best way to still give back is by virtually volunteering. Reach out to the cause of your choice to see what virtual volunteering roles they have available. See example volunteer roles here and check out our website for volunteer opportunities.

3. Understand the risks.
Before you consider volunteering outside your home, make sure you ask about any risks associated with your volunteer role and what the volunteer manager is doing to mitigate the risk. Also, check to see if there is a volunteer handbook you can reference.

4. Are you healthy enough to volunteer?
Based on what the CDC considers high-risk conditions, you should probably not volunteer outside the home if any of these apply to you – for the safety of yourself and everyone around you:
If you currently have a cough, fever, or any respiratory illness
If you currently have a heart condition, lung disease, diabetes, or any other serious health condition
If you are over the age of 65
If you or anyone in your household have been in close contact with anyone who is confirmed to have COVID-19
If you or anyone in your household recently traveled to China, Iran, South Korea, Japan, or Europe
5. Clean your hands often.
Whether you're creating something at home like a care package, or volunteering outside of the home, it is important that you protect yourself and others by following these guidelines from the CDC:
Wash your hands often with soap and water for at least 20 seconds especially after you have been in a public place, or after blowing your nose, coughing, or sneezing.
If soap and water are not readily available, use a hand sanitizer that contains at least 60% alcohol. Cover all surfaces of your hands and rub them together until they feel dry.
Avoid touching your eyes, nose, and mouth with unwashed hands.
6. Avoid close contact.
If you are volunteering out in the community, make sure you continue to exercise social
distancing and keep plenty of space between yourself and other people. According to the CDC, this is especially important for people who are at higher risk if they contract the virus.

7. Listen and follow safety protocols.
Whether doing a project from home or in the community, follow the advice and guidance of
staff or local teams at all times. Staff are working around the clock to ensure their volunteers are in a safe environment, both virtually and out of the home. Because of this, it is important that you follow their instructions to ensure the safety of everyone involved.

8. Clean and disinfect shared spaces.
While participating in at-home projects or working remotely, always remember to clean and disinfect frequently touched surfaces as often as possible. This includes tables, doorknobs, light switches, countertops, handles, desks, phones, keyboards, toilets, faucets, and sinks. If surfaces are dirty, clean them – use detergent or soap and water prior to disinfection.

9. Share out best practices and stumbling blocks.
We are all working towards the best way to do our work but safety is paramount. We are looking to internal affiliate experts and external partners to share best practices so we can all learn and put these systems into action. Reach out and communicate back what is working and what is not, where you are hitting road blocks, and where you have made a breakthrough.


Sources
New York Cares – Safety Requirements for Volunteers
Volunteer Ireland - Volunteering Safely During COVID-19
American Red Cross – Staying and Helping Others During COVID-19
CDC – How to protect yourself
Energize – Safety in Online Volunteering Programs
World Health Organization - Coronavirus disease (COVID-19) advice for the public
Last updated: 3/26/2020