National Service
SPARK SERVICE
NATIONAL SERVICE IS AN OPPORTUNITY TO SHARE YOUR PASSIONS AND PRIDE IN GOOD WORK DONE FOR OTHERS.
What is National Service?
By definition, National Service refers to a federal program that enables people to pay back government loans through community work. A prominent national service organization, AmeriCorps, offers diverse opportunities through the following programs: AmeriCorps State & National, AmeriCorps NCCC, AmeriCorps VISTA, & AmeriCorps Seniors.
AmeriCorps
For decades, AmeriCorps has worked to make service to others an indispensable part of the American experience. Through our nation's most trying times, AmeriCorps has come together to help those in need. AmeriCorps service positions focus on 6 key impact areas: disaster services, economic opportunity, education, the environment, health, and veterans and military families. AmeriCorps offers an array of programs for all levels of experience and desired requirements. To learn more about the different service programs, visit the AmeriCorps website >>>
Spark Health Corps
Spark the Change Colorado has recently been awarded $219,457 to build a public health AmeriCorps program. The grant will expand the presence of Spark's Mental Wellness Program in Colorado, which has been in operation since 2016. With this new funding, Spark will leverage the skills and experience of 20 AmeriCorps members in the state of Colorado to increase the number of students reporting a change or intent to change behavior to improve their mental health. These AmeriCorps members will provide Tier 1 and Tier 3 mental wellness education to vulnerable K-12 students at public charter schools throughout Colorado. We are now recruiting! To learn more, visit our Spark Health Corps page. >>>
AmeriCorps Seniors
AmeriCorps also provides a variety of AmeriCorps Seniors programs exclusive to older adults aged 55 and better. The goal of AmeriCorps Seniors is to empower an entire ecosystem of service through their core programs.To learn more about the three core programs of AmeriCorps Seniors, click here >>>
Listen Learn Act Academy: Co-Generational Program
Spark's Listen Learn Act (LLA) Academy is a new co-generational program that combines the strengths and wisdom of two different generations – Seniors 55+, and 5th-7th graders – to #SparkPositiveChange in a chosen issue area! The 2022-23 issue area is Health, specifically Social Isolation and Food Insecurity. Spark is offering this program in partnership with Encore.org and AmeriCorps Seniors. To learn more or apply today, click here >>>
Empowering Aging: Spark Programs
Spark the Change Colorado powers two AmeriCorps Seniors Programs: The Senior Companion Program and the Retired & Senior Volunteer Program (RSVP). These programs are currently available in the following service areas:
Retired & Senior Volunteer Program (RSVP): Alamosa, Huerfano, Las Animas, Montezuma, Park, Jefferson, and Broomfield Counties
Senior Companion Program: Adams, Arapahoe, Denver, Douglas and Jefferson Counties. Spark was recently awarded an AmeriCorps American Rescue Plan grant that begins July 1, 2022. It will help us bring the Senior Companion Program to Pueblo, Huerfano, and Las Animas Counties!
Visit the Senior Companion Program page or the RSVP page to learn more, contact us, and join today!
Not Seeing Opportunities in YOUR County?
Serve Colorado, the Governor's Commission on Community Service, has partnered with Colorado Youth for a Change to recruit over 400 AmeriCorps members to serve in schools to help address COVID-19 learning impacts and help to close persistent, historical opportunity gaps. Individuals are needed to support, mentor, inspire and connect with students by providing one of the following activities: literacy tutoring for grades K-3; math tutoring for grades 4th-8th; or student and family engagement services for middle and high school students. Training is provided. Find Out More! >>>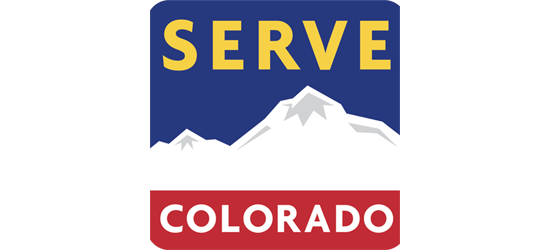 Spark Learning!
Want to take a deeper dive into the meaning and impact of National Service? Check out the Points of Light Civic Life Today Magazine! Civic Life Today is a new digital magazine that comprised of nine issues. Each issue takes an in-depth look at an element on the Civic Circle. The 8th issue, Service, provides materials to learn more about the different types of service, shares examples of service in action, and offers inspiration and ideas for being civically engaged.