The Marshall ROC Mission – Restoring Our Community
The mission of Marshall ROC is to support and empower individuals and households affected by the Marshall Fire and windstorm to lead their own recoveries by identifying needs and coordinating assistance on their behalf. Marshall ROC is a collaborative coalition of existing agencies and all Marshall ROC related services will be provided without regard to race, creed, color, gender, disability, religious or political affiliation, documentation status, or sexual orientation.
Disasters are, by their nature, overwhelming. If it wasn't overwhelming, we'd call it an "inconvenience," not a "disaster." The Marshall Fire and Windstorm is overwhelming. Our neighbors lost hundreds of millions of dollars worth of property and belongings. So many individuals and organizations have rallied to help and it is inspiring to see how engaged and supportive the communities responding to this disaster have been. However, it is now clear the need is greater than the available resources. Marshall ROC and its participating organizations will work to help as many people as possible, while managing community expectations.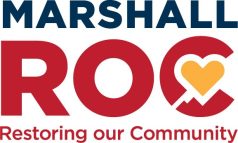 Disaster & Emergency Services
Families, LGBT (Lesbian, Gay,Bisexual,Transgender), Low-income Communities, Military/Veterans, People with Disabilities, Other, Aging Population