Spark the Change Colorado partners with Harvest Pack
to offer meal packaging opportunities to organizations that want a hands-on volunteer opportunity that feeds those in need.
---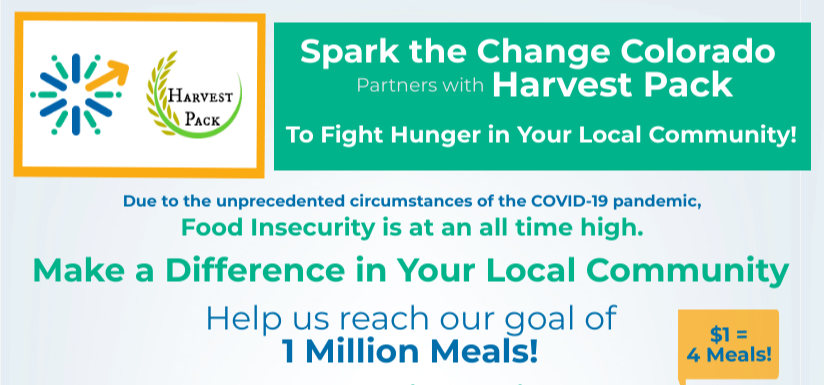 Looking for ways to give back?
For every dollar donated, 4 meals are packed for local community members in need!

We have partnered with The City and County of Denver to donate 800,000 meals to those in need in the Denver Metro Area through the Community Services Block Grant (CSBG)

Donate today to help us reach 1 million meals by the end of 2020. Looking for other ways to give? Volunteer to pack meals! More information to come on packing events.
Help us reach our goal! 1 Million Meals by the end of 2020!
And there's still time to get involved.
Your Donation Matters! Every Dollar Makes A Difference.
$25 = 100 meals
$100 = 400 meals
$250 = 1,000 meals
$10,000 = 40,000 meals
$25,000 = 100,000 meals
Volunteers are needed to pack more meals, as well!
Join your colleagues at Davita to help pack meals for hundreds of people in partnership with Harvest Pack! The next packing event is scheduled for the weekend of Dec. 11th & 12th.
Click Here to Volunteer for a Shift!
---
Want to stay up to date on volunteer opportunities related to COVID-19?
Sign up for the Colorado Responds E-Newsletter Today!
---
Harvest Pack Service Project To-Go Details:
The fee for 25 volunteers for 3 hours is $3,750, which results in 15,000 nutritious meals for local or international distribution. (No need to limit your group; we are able to accommodate more than 25 volunteers! Be sure to inquire about pricing for larger groups.)
For more information, contact:
Brooks Bryant: bbryant@sparkthechangecolorado.org, 970.319.9999
---
About Harvest Pack:

Founded in 2012, Harvest Pack is a 501(c)(3) humanitarian hunger relief nonprofit organization. Harvest Pack addresses food insecurity by supporting volunteers in bringing meal packing events to their local communities. Harvest Pack's healthy meals are then donated to established nonprofit partners who distribute to food insecure communities. Though Harvest Pack's primary focus is fighting hunger in the U.S., we are proud to support global needs with selected international organizations as well.
For more info about Harvest Pack, visit their website here!
---
"Our friends and family have gathered together for a Harvest Pack event, in support of the Sheridan Story, for the past two years. It's been a fun, well executed event that has brought us all together for a great cause. Thank you William and team for all you do to close the gap of food insecurity locally and beyond!" -Lisa G.
"Our non profit wanted to host an event and package meals that would be distributed locally so we contacted Harvest Pack. After hearing the presentation we were sold. William came out for the event and it went extremely well. We packaged thousands of meals that were handed out to Meals on Wheels and a couple other local food banks. Harvest Pack is a wonderful organization doing amazing work for our underprivileged. We will absolutely schedule another event with them!!" -Darcy S.
"Harvest Pack is absolutely a first-class organization. They worked with us every step of the way to prepare for our packing event and were totally organized and helpful, making it very easy for us. William was always happy to spend time answering questions. Participants found it a worthwhile use of their time to pack meals for hungry people while having fun along the way. HP also did a great job of engaging young children." -David B.
---
Email or call Brooks Bryant to get started.
303.945.2493 / bbryant@sparkthechangecolorado.org