Senior Companion Program

Senior Companion Program
Spark the Change Colorado's Senior Companion Program is celebrating its fourth year of operation this July. This vitally important program is part of AmeriCorps Seniors, a United States government agency. The Senior Companion Program engages individuals 55 years and better to realize the independence of older adults in their home and as a team, continue to be vibrant, contributing members of our communities. We serve in Adams, Arapahoe, Denver, Douglas, and Jefferson counties.
This program is designed to engage people as volunteers who are:
55 years or older

Willing to volunteer 5-40 hours a week for at least one year

Pass a State and FBI fingerprinting check as well as the National Sex Offender check

Interviewed and attend pre-service orientation and training

Living on a limited income to receive a modest, nontaxable $3.00/hr stipend

Sufficiently healthy and active to provide reliable assistance to other older adults

Licensed and insured to drive a car or able to use public transportation

Committed to the program's goals, professional ethics and comfortable accepting supervision

Creative, social, adaptable and compassionate about improving the lives of others
Please view our Income Eligibility Chart below to see if you qualify.
Senior Companion Program Income Eligibility Chart
Companions support other older adults in many ways including, but not limited to:
Offering companionship and friendship

Providing transportation to medical appointments or to social events

Helping with grocery shopping and other shopping

Assisting with simple chores like putting away groceries, preparing meals, washing dishes

Reading or helping with mail, email, newspapers or magazines

Alerting family members or caregivers to potential health issues or home life situations
Benefits to Companions including, but not limited to:
Opportunity to use life experiences, time and talent to enhance the lives of others

Chance to learn new and exciting things about other people and the community in which they live

If income eligible, a modest non-taxable stipend of $3.00/hour of service

Paid personal time off during year of service

Assistance with meals and travel reimbursement

Accident and liability insurance while in service

Paid pre-service and monthly training sessions

Paid annual physical

Community recognition for the invaluable service they provide
Interested in becoming a Senior Companion?
Please fill out the application below and email it to egarrigus@sparkthechangecolorado.org.
Fillable Senior Companion Application
We are seeking organizations to serve as Volunteer Stations. Volunteer Stations:
Are community and civic organizations that address the health, housing and social needs of older adults, such as secular or faith-based nonprofits, propriety healthcare organizations, home health agencies, hospice programs, housing facilities, public health departments and centers on aging

Meet significant needs of the community

Are accessible to older adults and people with disabilities

Will help design and sign a Memorandum of Understanding (MOU) for their responsibilities to the program and volunteers

Provide assignment plans to volunteers and provide training, if needed

Will monitor the activities regularly to ensure satisfaction of both Senior Companions and clients

Collect data and provide timely and accurate reports to help gauge success of program

May select appropriate staff to serve on the Senior Companion Program Advisory Committee
---
For more information, contact Emily Garrigus, Empowering Aging Recruitment & Community Outreach Manager:
egarrigus@sparkthechangecolorado.org
Looking for National Service Opportunities for all ages, outside of these counties?
Serve Colorado, the Governor's Commission on Community Service, has partnered with Colorado Youth for a Change to recruit over 400 AmeriCorps members to serve in schools to help address COVID-19 learning impacts and help to close persistent, historical opportunity gaps. Individuals are needed to support, mentor, inspire and connect with students by providing one of the following activities: literacy tutoring for grades K-3; math tutoring for grades 4th-8th; or student and family engagement services for middle and high school students. Training is provided.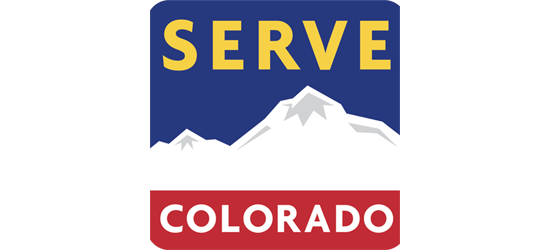 Sponsors: